If there's one thing I've noticed over the years, it's how Social Selling programs operate (more often than not) in complete isolation of other social media programs within a business.
Traditionally, in B2B, sales will always get priority because they're closer to the customer and where the revenue impact is felt more prominently.
For that reason, Social Selling programs accelerate whilst Employee Advocacy programs are operating as a "nice to have" brand advocacy program in the background for all other employees.
This new survey from B2B Marketing highlights several things to me:
👉 Only 18% of companies do tag their content pieces by sales stage and or persona
👉 11% of B2B marketers admitted they do not know how their sales colleagues find suitable content
👉 16% reported that they have an SE platform which channels content to sales
👉 13% of companies have separate sales content management software
👉 49% of respondents reported that they merely ship out the 'corporate slide deck and expect'
👉 73% of companies do not have any software that ensures message governance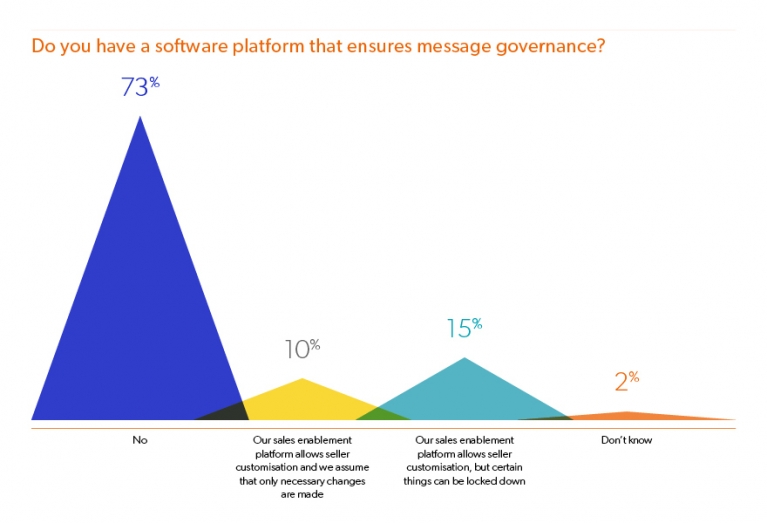 So here's my point.
Social Selling will never work unless your sales people can find and share quality content regularly and consistently (by the way, this isn't just brand content).
Finding content is time consuming and if you want to optimise your sales teams time, I suggest finding an easier way to put it in their hands.
Employee Advocacy programs are designed to help provide content to employees - not just brand content but content that helps them learn, develop and build their knowledge.
Connecting the dots between Sales Navigator Reports, Employee Advocacy Reports and Learning Management Systems will help you provide the right training, to the right people and at the right time. (Btw, this is what we specialise in at Tribal Impact 😀)
In brief...
ALL social media activation programs (Social Selling, Employee Advocacy, Employee Influencers, Exec Social Coaching) perform better when the programs are connected to each other.
So, break the silo internally. Reach out and consider how you can collaborate to increase productivity, drive efficiencies and reduce the cost of licenses not used and invest that money in enablement.
Image: @s_erwin