In New York last Thursday, we had the pleasure and opportunity at Passle, to facilitate an intimate event with 20 CMOs and senior BD folk from New York-based law firms. Phill McGowan (Global Director of Corporate Communications at Reed Smith) and James Barclay (CEO Passle Inc) expertly walked us through how Reed Smith has built a trusted and highly successful thought leadership program that is ultimately owned by their lawyers.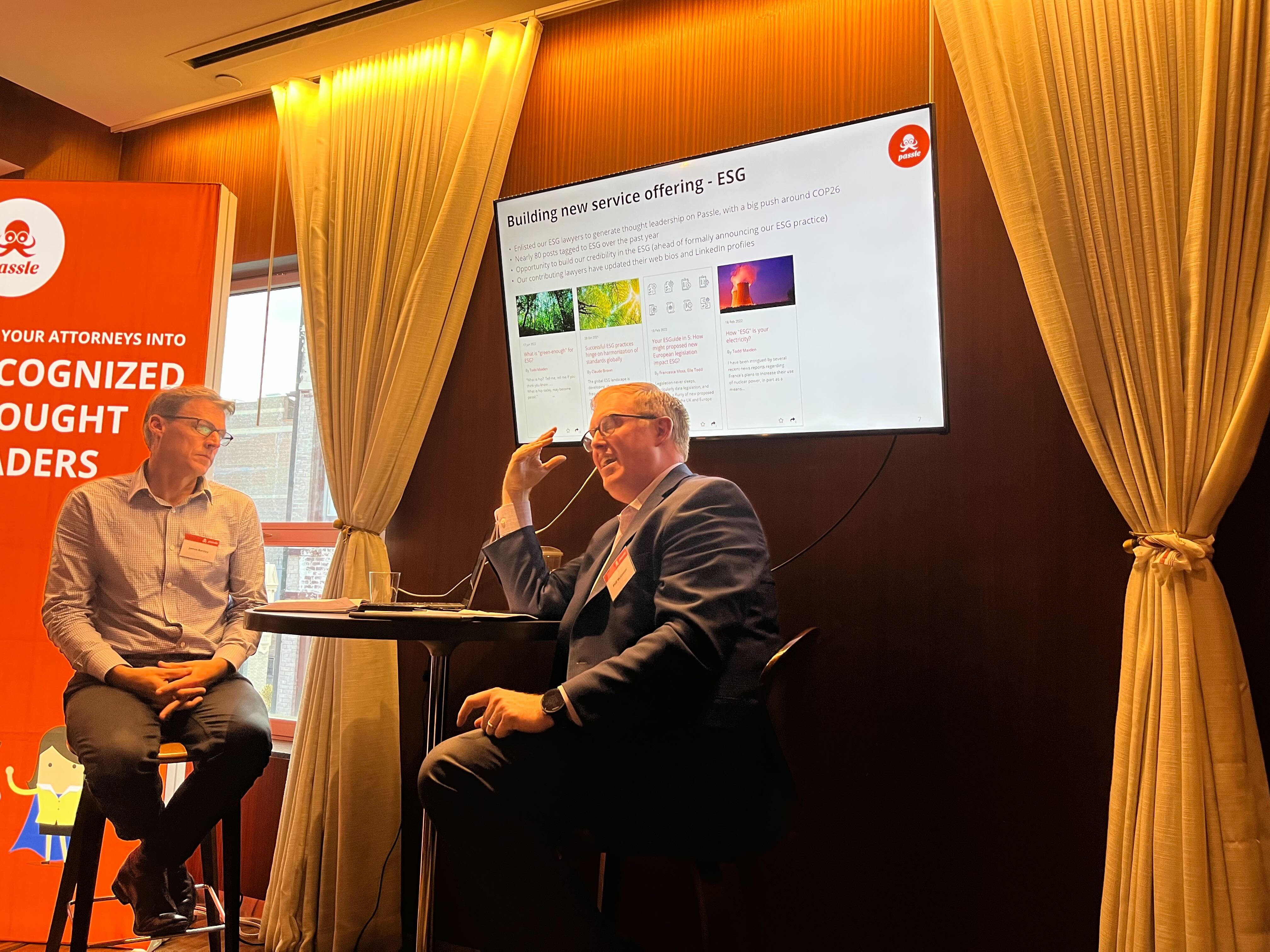 The overall content strategy- Like many firms, Reed Smith leverages numerous channels to drive their content out to the market:
PR
LexBlog
Passle
Podcasts
Videos
E-comms
Social Media
Lexology
Webinars
The ultimate aim is to drive key clients and prospects back to Reed Smith's website and the firm's main commodity, its lawyers. Phill highlighted the success citing that 40% of their website traffic goes to lawyer bios.
Reed Smith's Key Tie Breaker on Investment- Phill talked about Reed Smith's emphasis on growing its global presence across five key industries (see below) – and that emphasis can sway firm investments in thought leadership and how lawyers are enlisted to produce content. It's crucial for every firm to understand how to leverage its strategy to make the most of its thought leadership investment.
Issues Led Campaigns- Being able to produce campaign-led content is very important for Reed Smith as it showcases timely and relevant expertise. Some in-depth industry content is in the form of longer hero pieces with multiple contributors that involve substantial investment, from both a time and monetary perspective. Phill noted that they look to make this hero content work harder by linking it to other short-form pieces, complementary pieces, and of course distributing across the multiple channels they have at their disposal.
Building a New Service Offering- Using Passle, Phill talked through how the marketing team at Reed Smith has enlisted dozens of lawyers to produce nearly 80 posts of relevant and timely ESG-related content over the past year. This has enabled Reed Smith to build credibility in the space even as it's further standing up its formal ESG offering. This content push also made for a great personal brand-building opportunity for the lawyers involved, as they were enlisted to update their Linkedin profiles and firm bios to they better reflect the insights they were sharing with clients.
Shooting for the Google Answer Box- Phill talked through how the firm's regulatory group had successfully launched a series of six anti-corruption client alerts late last year, providing clients with an easy-to-read overview of rules from across multiple regions. These alerts were disseminated by email and posted to the firm's website. By following SEO best practices, the overall aim was to own the topic space on Google. The campaign had two positive outcomes:
For the term 'UK Bribery,' Reed Smith content jumped above the UK Government on Page 1 of Google search for a period of several weeks.
The series of six client alerts were cleverly repackaged into a brochure broken down into each jurisdiction that was then delivered to clients.
Empowering Lawyers to Build Their Following- Phill cited a few examples here as to how he and his team have managed to elevate their lawyer's own personal brand and following. None more so than Tom Greeson, a Reed Smith partner representing radiologists and diagnostic image providers in a very niche space. The numbers are impressive with Tom: On Passle, he has produced over 150 insights in just over a year, resulting in 36,000+ content views, 500+ bio views and 185 subscribers gained!
Trying to Win Search- A difficult art to master but as Phill pointed out, more and more clients rely on long-tail web searches for information, whereby they are typing in sentences and sometimes whole paragraphs of keywords to search for a particular answer or service. For all the clients who don't know your firm, search is an opportunity to be discovered.
It was a brilliantly insightful session topped off with some sunny networking in person by all that could make it on a lovely sunny afternoon.
We can't wait to host, and see you, at the next one!